Regular price
$0.00 USD
Sale price
$29.00 USD
Unit price
per
Sale
Sold out
Ingredient Details
Scent Details
INE's Skin Nutrient Bar is made with Sake Kasu, a byproduct of traditional Japanese Sake brewing process that unlocks the full power of rice to give you youthful, radiant skin. 
Each bar is carefully crafted without sulfates, parabens, silicones, or artificial fragrance and colorants. It's suitable for all skin types.
Crafted in Japan

Happiness Guaranteed

Free Shipping
We're committed to crafting each of our bars with care in artisanal, small batches, so please allow one week for your order to ship. We promise it's worth the wait! Order now to secure your bar in our next handcrafted batch!

View full details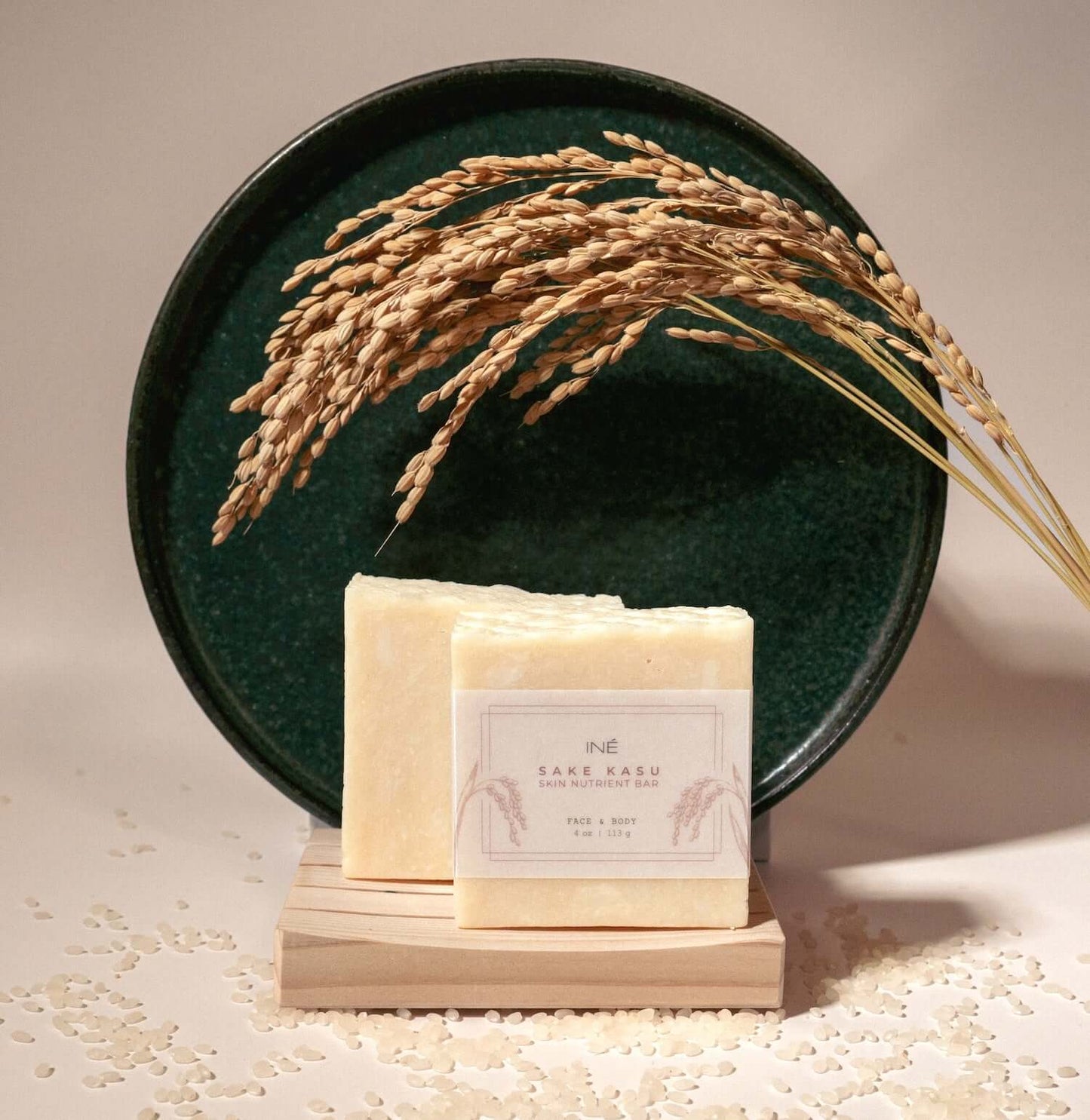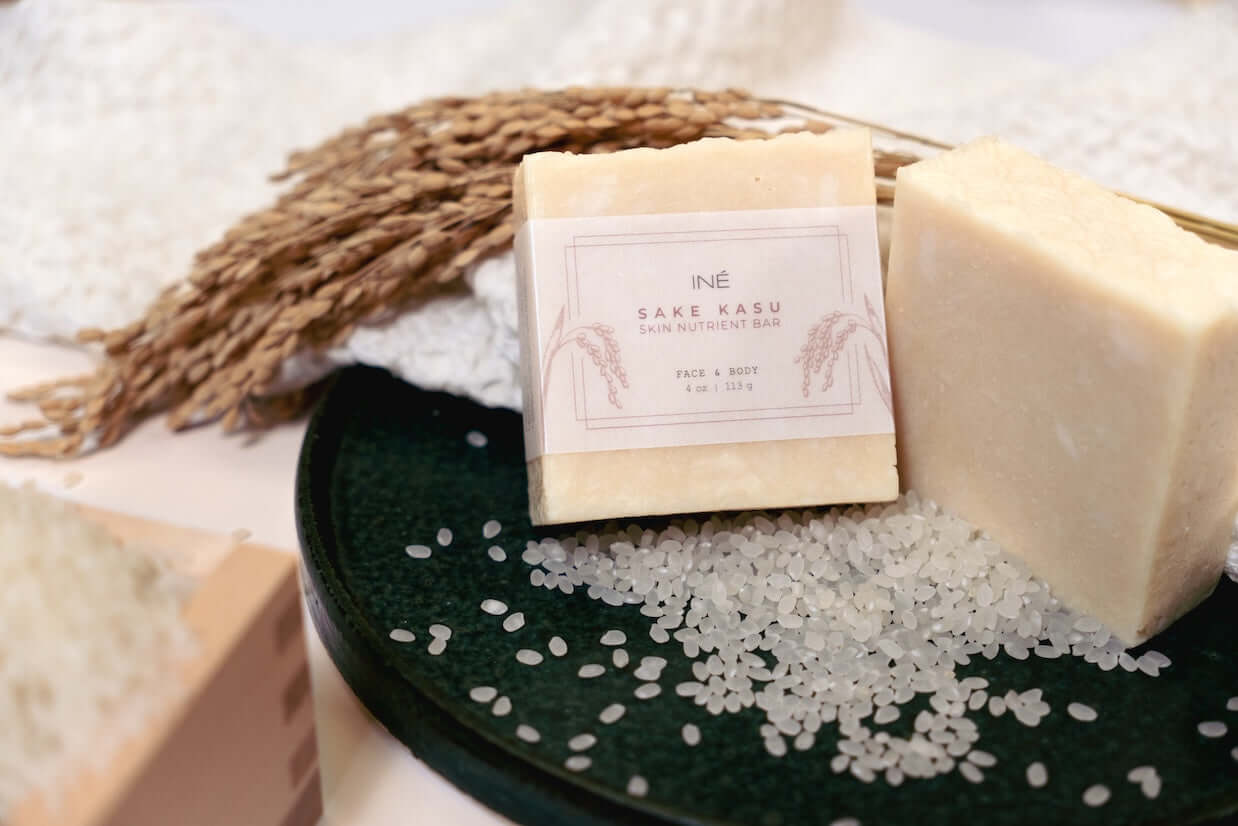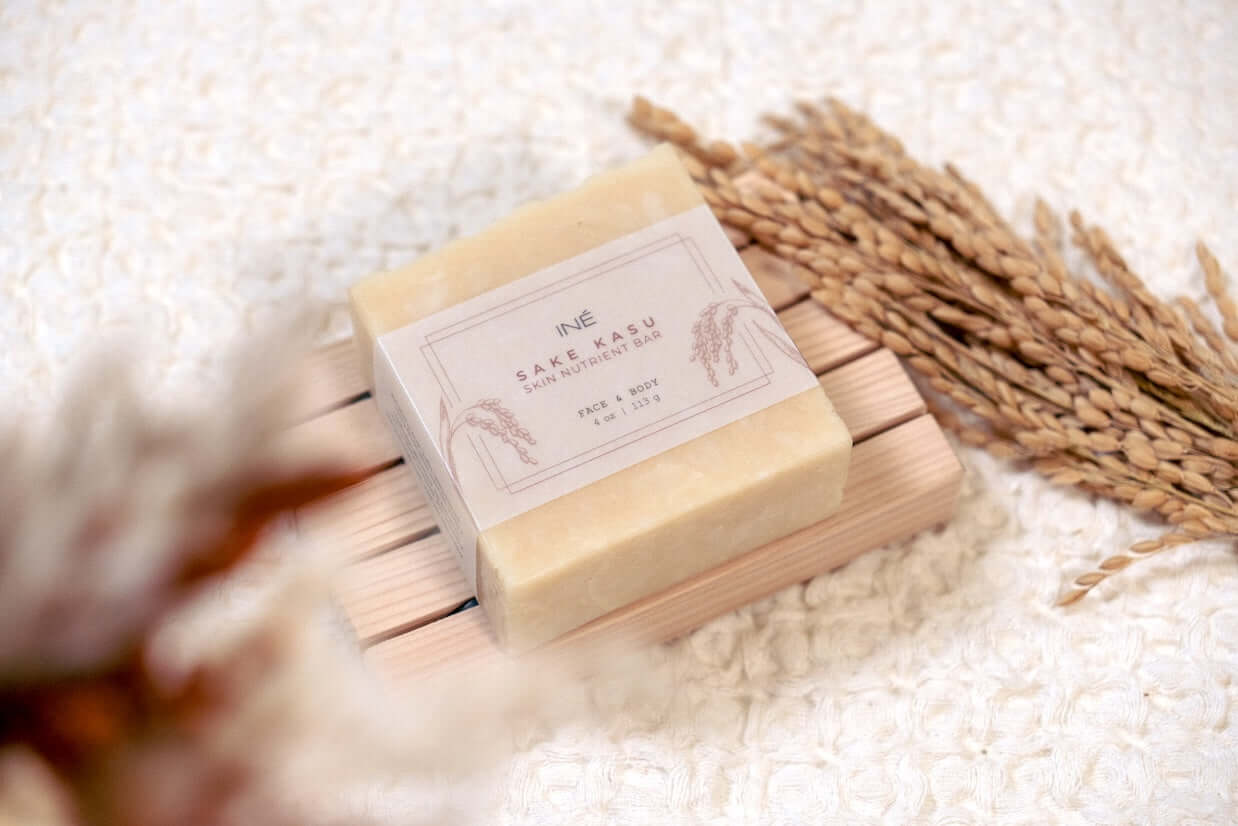 All About The Ingredients
RSPO Palm Oil, RSPO Palm Kernel Oil, Sake Kasu (Fermented Rice Mash), Rice Bran Oil, Sunflower Oil, Castor Oil, Hatomugi, Sake (Rice Ferment Filtrate), Mango Butter, Citric Acid (citrus), Sodium Lactate (liquid salt)


Curious about our use of Palm Oil? Here's why we prefer it over Coconut and Olive Oil:
Coconut and olive oils are often seen as greener, but they come with hidden problems like deforestation and labor exploitation. In contrast, RSPO (Roundtable on Sustainable Palm Oil)-certified palm oil undergoes strict scrutiny to ensure minimal environmental impact.
Coconut oil, once saponified, can lead to uncomfortably dry and stripped skin, especially sensitive skin. Palm oil, however, is known for its gentle cleansing. Customers have told us they love the "refreshingly clean" feel without dryness or tightness.
In crafting the perfect soap, we wanted a product that was gentle on the planet and your skin. Our choice of palm oil ensures a soap that's effective, skin-friendly, and environmentally conscious.
All about the Scents
We don't just pick essential oils for their pretty scents, we select them for their skin-loving benefits too. No artificial fragrance oils allowed - we only use nature's best to keep your skin happy and healthy.
Unscented - While this bar contains no essential oils, you may notice a subtly sweet rice wine aroma naturally scented by Sake Kasu.
Hinoki Forest - Spirit away into a tranquil forest hotspring with this calming, relaxing essential oil extracted from genuine Japanese Hinoki Cypress wood. It's everything you need to restore your body and mind.
Wild Lavender - Relax and revive with our Lavender essential oil. With its calming, soothing scent, our essential oil will make your showering experience truly special. Plus, its skin benefits are an added bonus.
Geranium + Hiba - The uplifting and floral aroma of Geranium is delicately blended with the earthy and woody notes of Hiba, creating a calming yet invigorating fragrance that awakens the senses and transports you to a peaceful forest sanctuary.
What are the benefits of the Skin Nutrient Bar?
Strengthen skin barrier

Unclog and tighten pores

Smooth and soften skin

Reduce fine lines, wrinkles

Calm redness, inflammation

Brighten and boost glow

Promotes cell renewal

Boost, retain hydration

Control sebum production

Lighten hyper-pigmentation

Boost collagen and elasticity

Reverse UV damage

Gently exfoliates

Boost firmness and elasticity

Improve tone and texture
Fermented rice mash
The INÉ Skin Nutrient Bar contains Sake Kasu, a natural ingredient with a well-established history and scientific evidence of promoting healthy and youthful skin, thanks to its ability to enhance radiance and provide anti-aging benefits.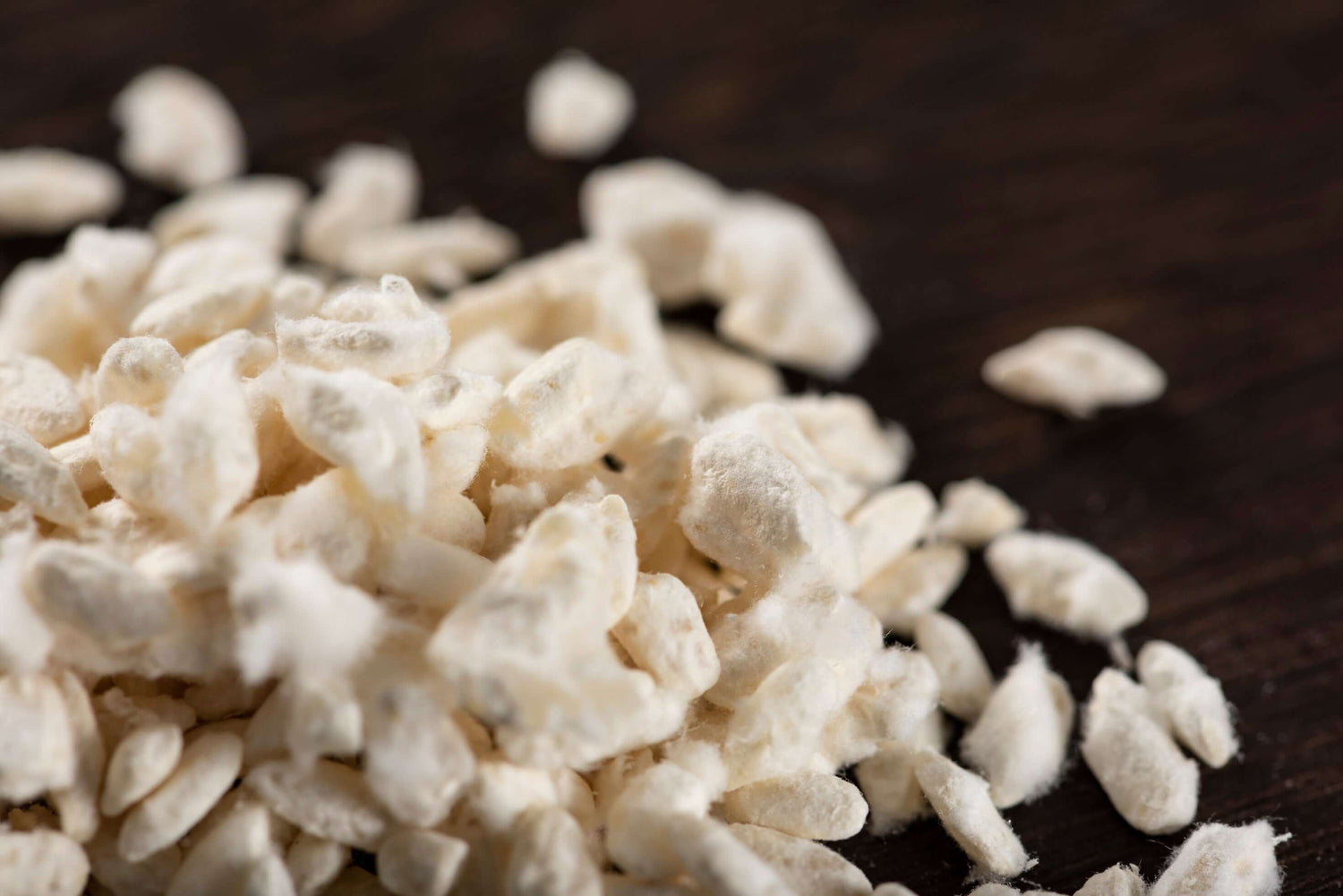 With over 100 skin nutrients!
The Skin Nutrient Bar contains over 100 kinds of amino acids, peptides, probiotics, antioxidants, and vitamins. It can effectively replace your cleanser, exfoliator, brightener, toner, vitamin C, and essential fatty acids serums. INÉ helps you easily maintain a minimalist skincare routine while achieving an effortless glow
Phytonutrients in the Skin Nutrient Bar
Learn more
Proline

An amino acid used by the body as a building block for collagen production. Improves skin elasticity and promotes skin repair and regeneration.

Ferulic Acid

An antioxidant that boosts the effect of other nutrients and reduces the development of fine lines, spots, wrinkles, and sun damage.

Glutamic Acid

An amino acid that helps keep the skin's pH value intact. It binds to water molecules in the skin, thus promoting moisture retention in skin.

Lactobacilli

A probiotic that helps soothe dry, irritated skin and rebalances the skin. It can restore the skin to a healthy state and relieve redness with consistent use.

Succinic Acid

Tightens skin and adjusts the texture by supporting skin's natural exfoliation. Reduces acne by unclogging pores and controlling skin's oil levels.

Kojic Acid

Improves skin brightness, firmness, elasticity, and restores your natural skin tone.

Saccharomyces

A nutrient-rich yeast that detoxifies and soothes the skin and increases oxygen flow to skin cells.

Galactomyces

Effective at acne and oil control, hyperpigmentation, and pore reduction. Improves overall radiance.

Squalene

Protects skin barrier and aid in cell regeneration for a fresh, radiant glow. Locks in moisture and diminishes the appearance of fine lines and wrinkles.

Vitamin B1

Also known as Thiamine. Helps the body build ATP and boosts the delivery of nutrients to the skin. Clears away older skin and promote radiance.

Niacinamide

Also known as Vitamin B3. Protects and strengthens the skin's barrier and helps retain moisture.

Pantothenic Acid

Also known as Vitamin B5. Works as a humectant, attracting water to the skin, and as an emollient, which seals the moisture in the skin.
Give your skin the right nutrients. Use the Skin Nutrient Bar every day while you shower to see long-lasting improvements to your skin.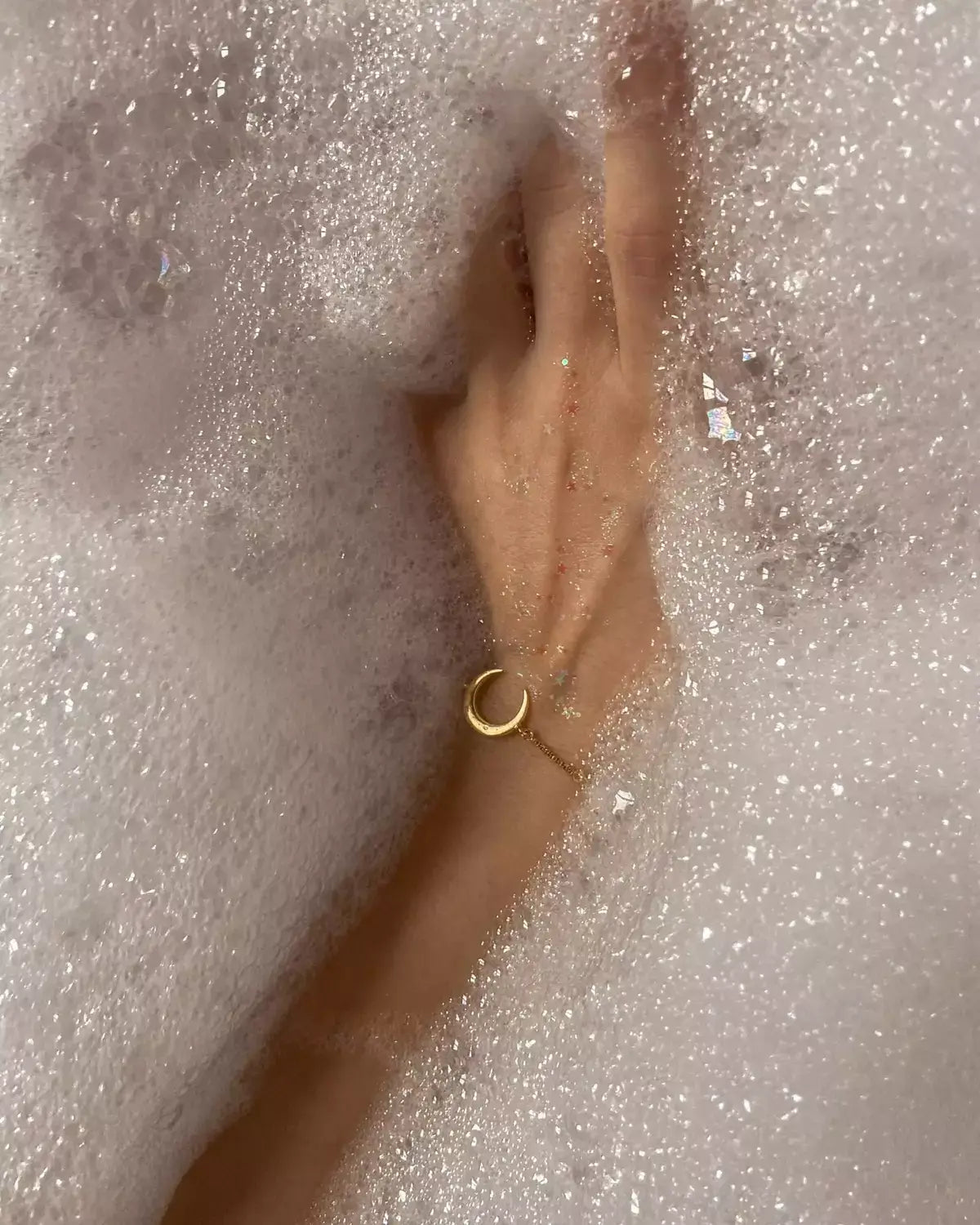 Indulge your skin in fermented rice lather
The Toji get their signature youthful hands from working their hands daily in Sake.
To give you the same experience, we crafted the Skin Nutrient Bar with Sake Kasu to nourish and revitalize your skin every time you shower. 
Money-Back Guarantee
At INÉ, we believe in the power of our products and are confident that you will love them. That's why we offer a money-back guarantee - no questions asked! If you're not satisfied with your purchase, simply contact us and we'll refund your money. No need to return the item - just keep it as our gift to you! We want you to feel comfortable trying out our products without any risk or hassle. So go ahead and give us a try - we promise you won't regret it!