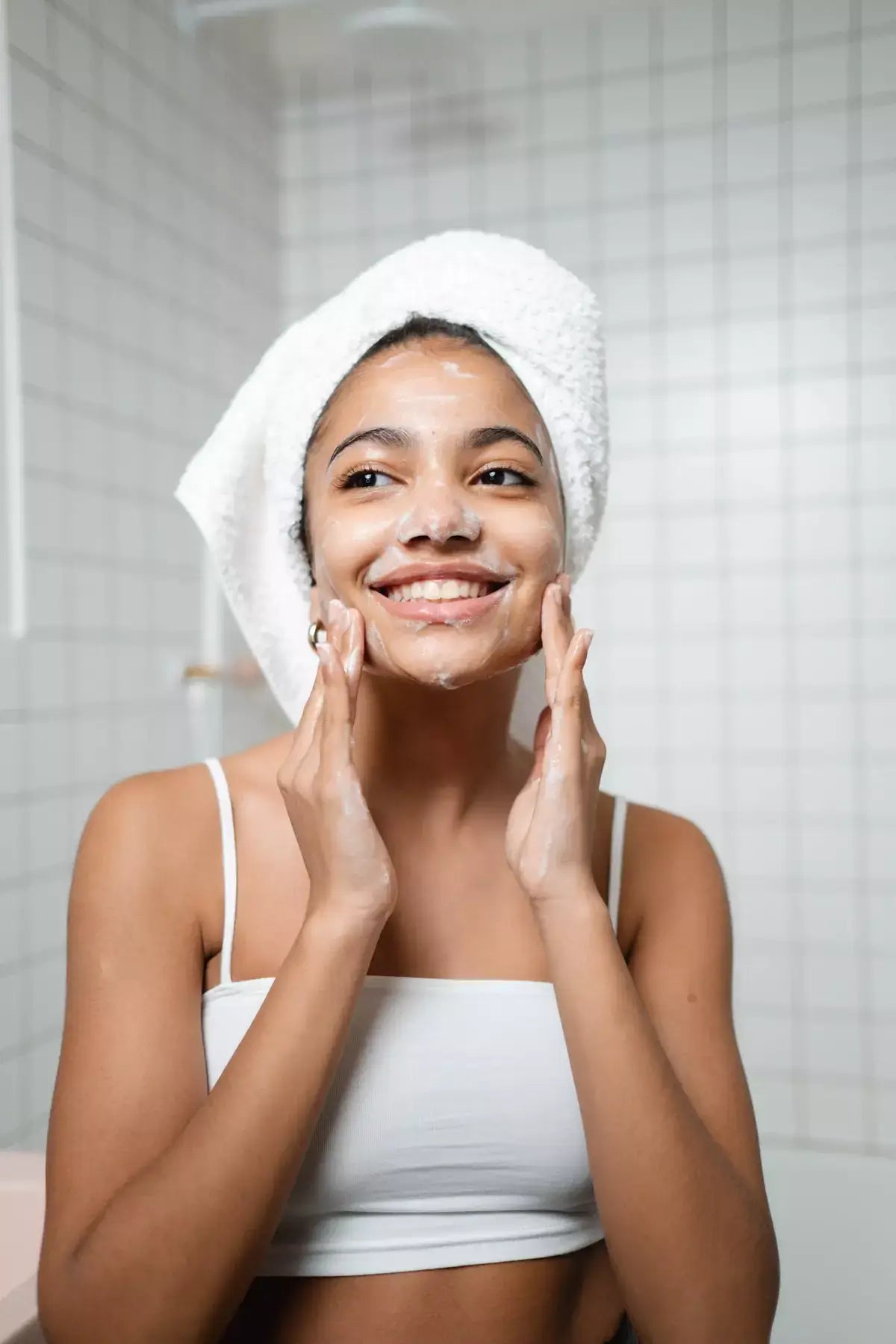 Unlock Your Natural Glow With Sake Kasu
Our nourishing soap bar is crafted with the fermented rice extract from Sake breweries, a centuries-old beauty secret with over 100 skin nutrients that will give your skin the healthy and radiant glow you deserve.
Unlock Your Glow
"My skin feels firmer, more hydrated, and a lot of the sunspots on my face are less noticeable."
- Jenn H. (mom of two boys)
Feeling overwhelmed by skincare and underwhelmed by the results?
Great skin is actually very simple.
Introducing the Skin Nutrient Bar
Infused with Sake Kasu, a cult secret fermented rice extract from Japanese Sake breweries, our Skin Nutrient soap bar is packed with all the nutrients your skin craves to feel nourished, healthy, and radiant.
It will simplify your skincare routine, so you can spend less time in front of the bathroom mirror and more time on the things that matter, like binge-watching your favorite Netflix show or nailing that mom and kid TikTok dance challenge.
Time-Honored

Loved by centuries of skincare buffs like you

Clean & Simple

No sulfates, parabéns, silicones, artificial fragrance or colorants

Vegan-Friendly

Botanically-derived nutrients for your glow
First, let's talk about Sake
Also known as Japanese rice wine or "fermented rice water," Sake has been used in skincare for centuries in Japan. And though it's exploded in popularity in recent years, a more potent ingredient from Sake breweries remains a well-kept secret – that's Sake Kasu.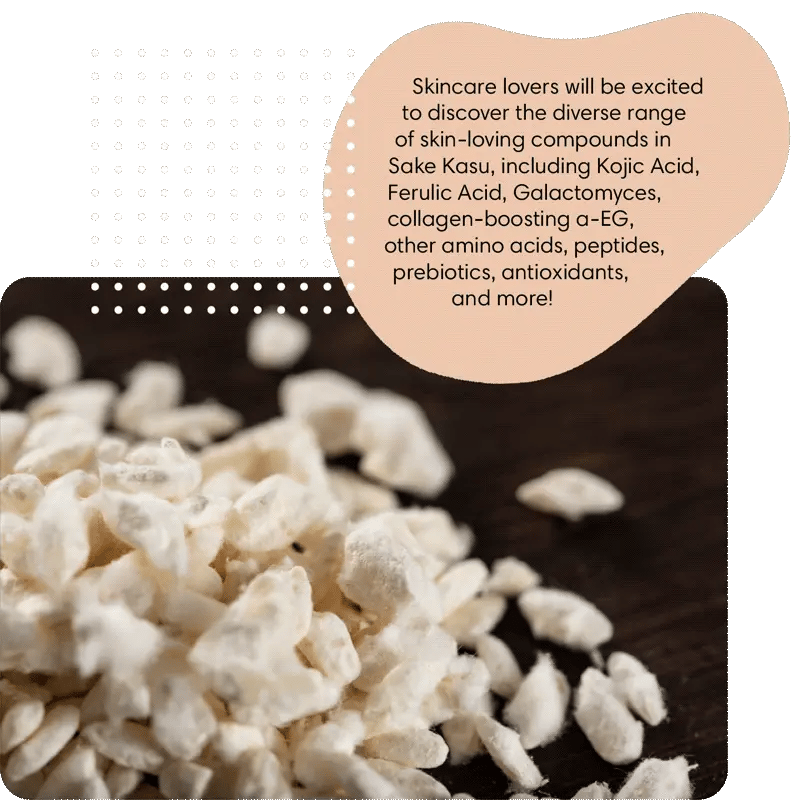 The Hidden Gem from Sake Breweries
Sake Kasu is the fermented rice pulp leftover from Sake production, and it's jam-packed with over 300 nourishing compounds (100 just for the skin!) that are unlocked when rice goes through Sake's unique fermentation process involving Koji and Sake yeasts.
We're not saying Sake Kasu is a magical elixir, but some do call it the fountain of youth. And who are we to argue?
Power up your skincare with Sake Kasu
Don't just take our word for it – science has spoken! Sake Kasu is the real MVP for gorgeous skin.
Boost collagen and elasticity

Reduce fine lines, wrinkles

Lighten hyper-pigmentation

Boost, retain hydration

Unclog and tighten pores

Brighten and boost glow

Strengthen skin barrier

Promotes cell renewal

Calm redness, inflammation

Reverse UV damage
The Enduring Legacy of Rice in Beauty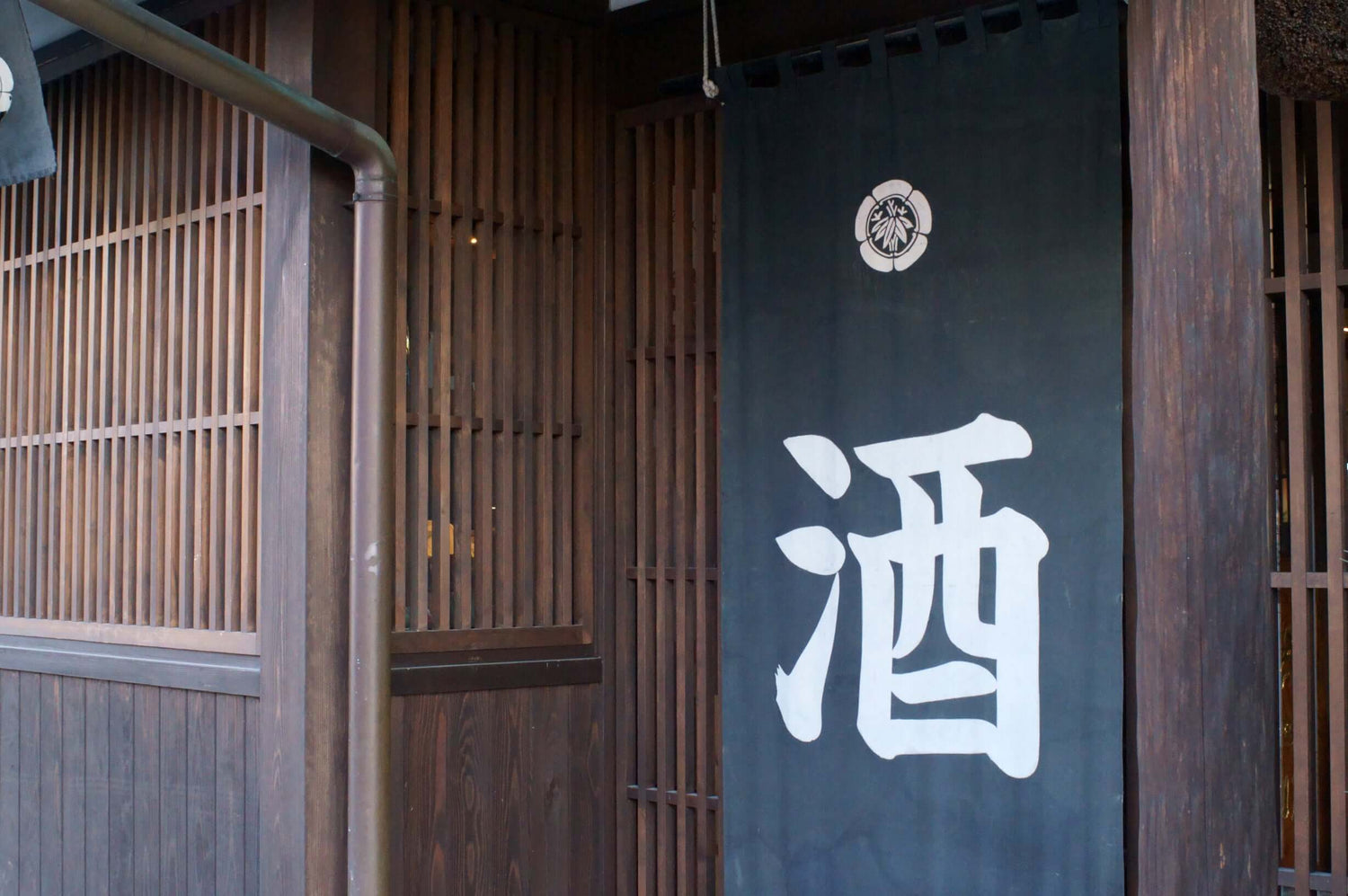 The beauty benefits of rice have been known since 794 AD: Japanese court women of the Heian period used rice water to boost hair shine and strength. People took Sake-filled baths to nourish skin. And the inexplicably youthful and dewy hands of Sake brewers became Japanese lore.
In the 1970s, Japanese scientists finally conducted a formal research and uncovered the multitude of compounds in Sake that provide diverse skin benefits.
Today Sake is a well-loved skincare ingredient, yet the real treasure is Sake Kasu – a secret still only known to Japan.
The Skin Nutrient Bar, supercharged with Sake Kasu
Our nourishing soap bar is packed with all the benefits of Sake Kasu to give you multi-faceted skin benefits, minus the multi-step routine. Each bar is:
handcrafted in Japan
non-comedogenic
free of skincare baddies like sulfates, parabens, silicones, and artificial fragrances and colorants
With the Skin Nutrient Bar, you're getting more than just a cleanser.
Sake Kasu eliminates the need for abrasive exfoliants, harsh retinols, brighteners, pore care, vitamins, peptide serums, and antioxidants, giving you all those benefits in one step.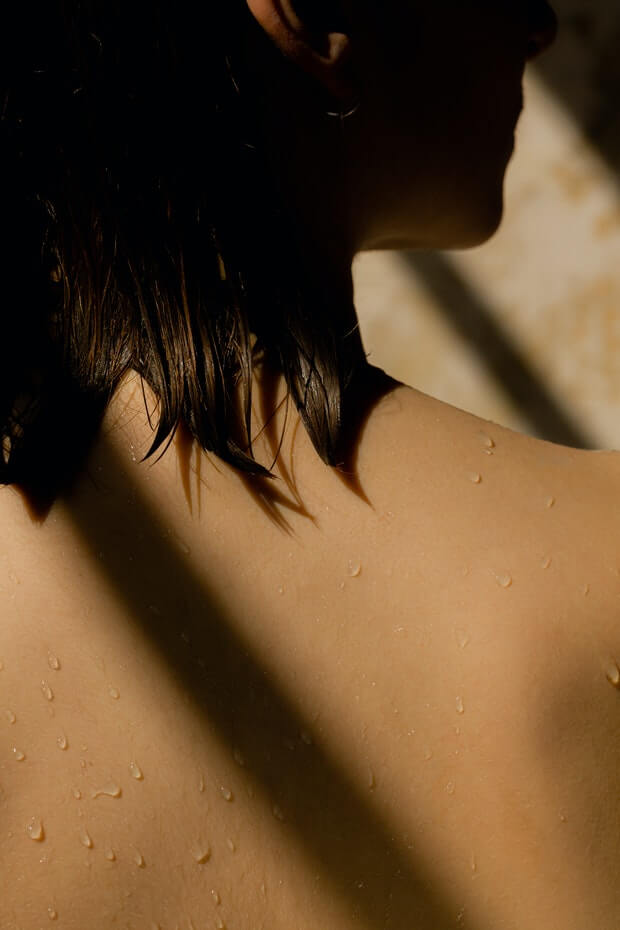 Formulated as a facial bar, Portioned as a body bar
Why should your face get all the love? At INÉ, we're all about sharing the wealth – especially when it comes to skin nourishment.
That's why our Skin Nutrient Bar is generously portioned, so your body can bask in the glory of our fermented rice goodness too!
Treat yourself to a full-body care experience and let your skin glow from head to toe.
Unlock Your Glow
What fans of our Sake Kasu Skin Nutrient Bar are saying...
My skin feels firmer, more hydrated, and a lot of the sunspots on my face are less noticeable.

Jenn (mom of two boys)

The Skin Nutrient bar is gentle but effective, and it has improved the overall texture and appearance of my skin. I can't imagine going back to using anything else.

Zoe (freelance designer)

I'm a huge fan of the Skin Nutrient Bar! I love that it's so easy to use and fits into my daily routine without any hassle.

Emily (fitness trainer, mom)
Choose your Skin Nutrient Bar set today!
Regular price

$0.00 USD

Sale price

$19.00 USD

Unit price

per

Free Shipping Worldwide

Regular price

$0.00 USD

Sale price

$29.00 USD

Unit price

per

Free Shipping Worldwide
Skin Nutrient Bar Is Easy to Use
Step 1: Lather

Lather up your face and body with the Skin Nutrient Bar.

Step 2: Rinse

Bask in the Sake Kasu nutrients. Rinse off and pat dry.

Step 3: Glow

Say hello to healthy, happy, and radiant skin.
Money-Back Guarantee
At INÉ, we believe in the power of our products and are confident that you will love them. That's why we offer a money-back guarantee - no questions asked! If you're not satisfied with your purchase, simply contact us and we'll refund your money. No need to return the item - just keep it as our gift to you! We want you to feel comfortable trying out our products without any risk or hassle. So go ahead and give us a try - we promise you won't regret it!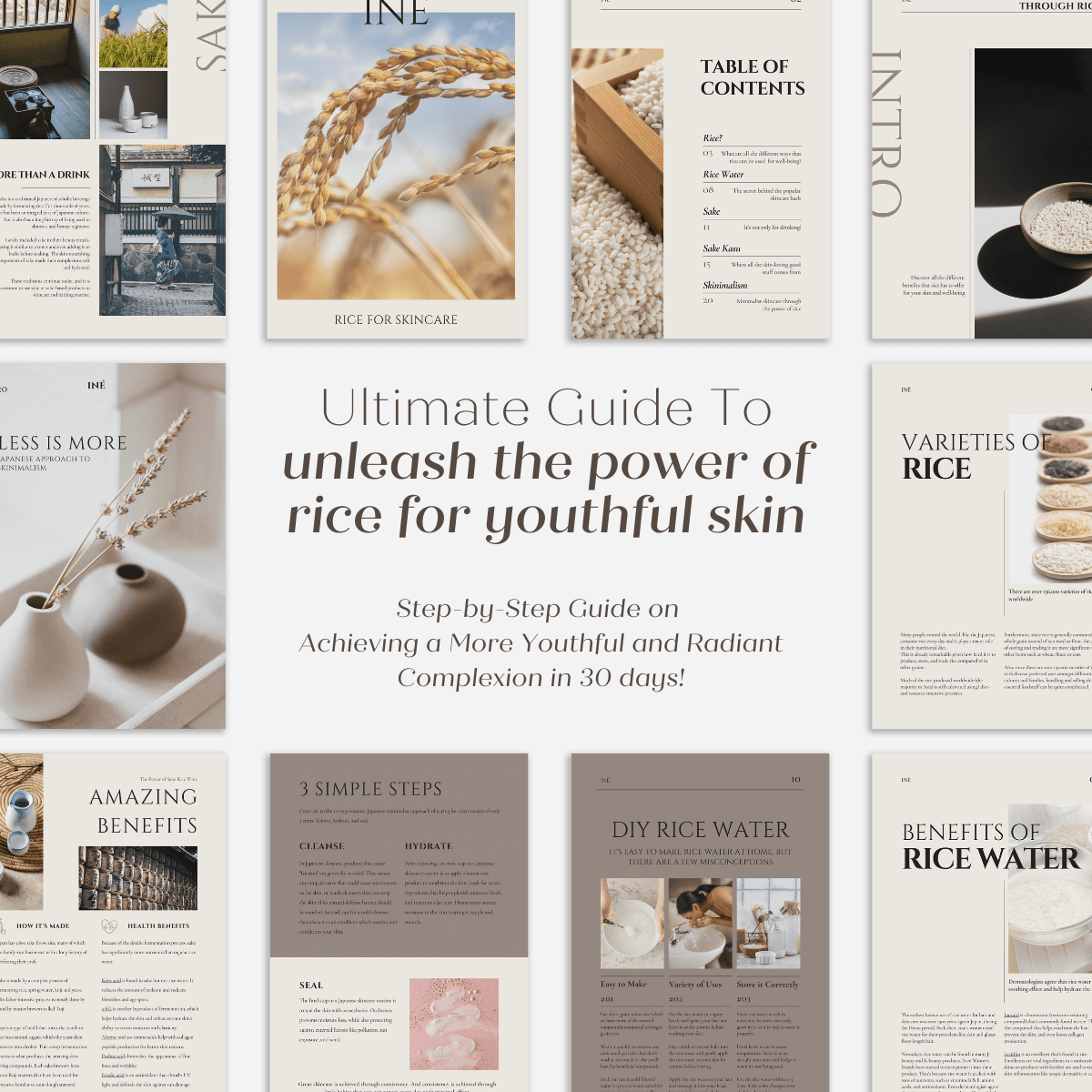 Get your FREE guide on how to turn the rice in your pantry into a skincare super product!
Rice and Sake has over 100 skin-loving nutrients. This guide has over 27 beautiful pages of DIY skincare tips that include:
How to make your own Rice Water Serum
Step-by-step guide to create your own Sake face & body mask
Learn to make your own Sake bath-bomb
and more....!
Get my free guide