What's in the Skin Nutrient Bar?
Grounded in centuries of Japanese tradition. Backed by modern science.
From A Humble Grain
The rice grain is a great source of phytonutrients for your skin and hair: Vitamins B1 and B6, magnesium, potassium, lipids, and proteins, providing skin benefits such as hydration, barrier protection, and reduced inflammation. Yet it's true powers are only unlocked when it goes through Japanese Sake fermentation.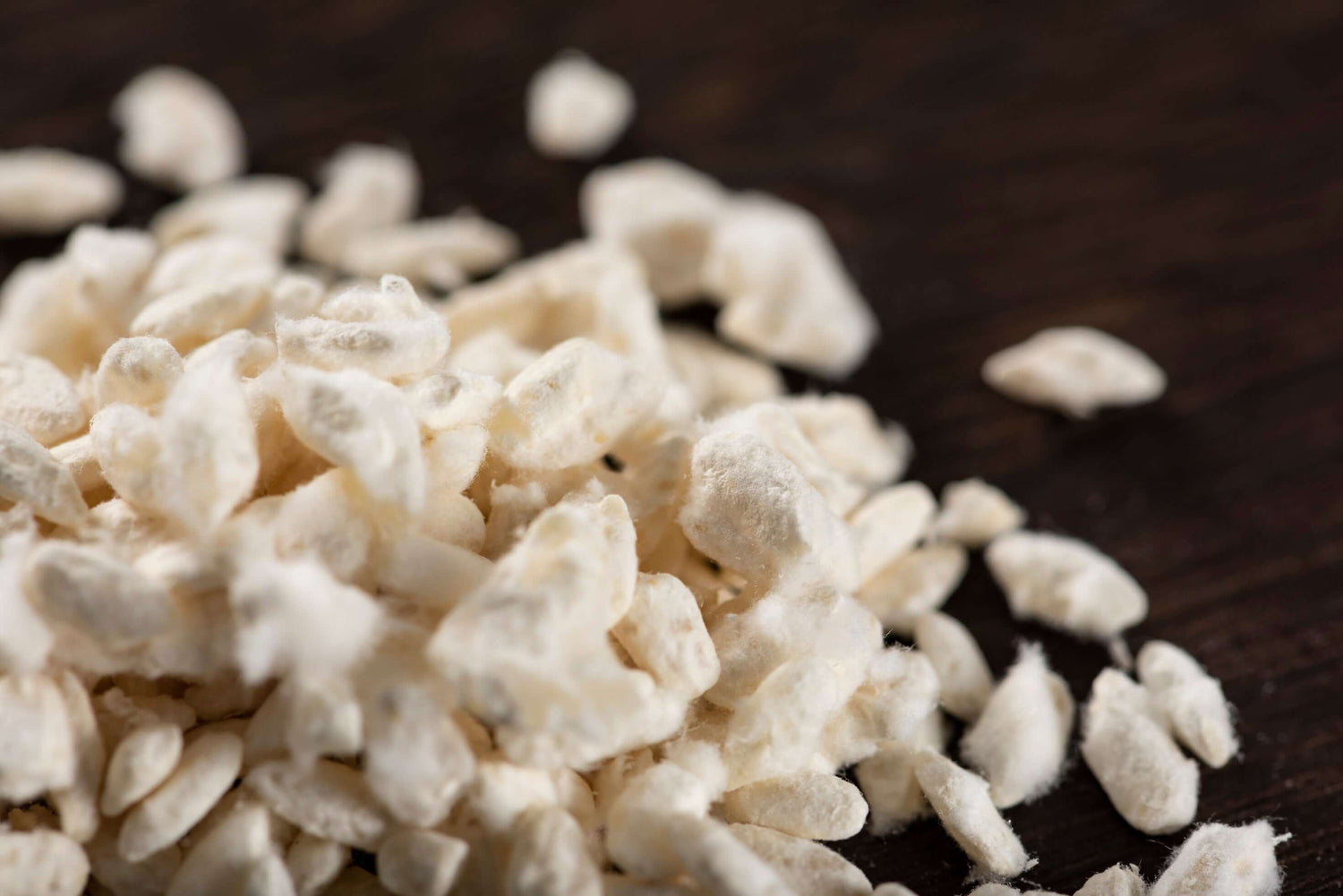 With A Dash of Ferment Magic
All thanks to a special mold that's unique to Japan and the Sake brewing process: Koji (Aspergillus oryzae) and Saccharomyces cerivisiae (Sake yeast), the fermentation process creates something magical with rice.
1) The bioavailabiliy of the nutrients increases,
2) Entirely new skin-loving compounds are created, such as: Kojic acid, Ferulic acid, Galactomyces, Saccharomyces, glucosylceramides, ethyl-α-d-gucoside which boosts collagen production, and other amino acids, peptides, organic acids, probiotics, enzymes, and vitamins.
More more about Sake's Koji fermentation process.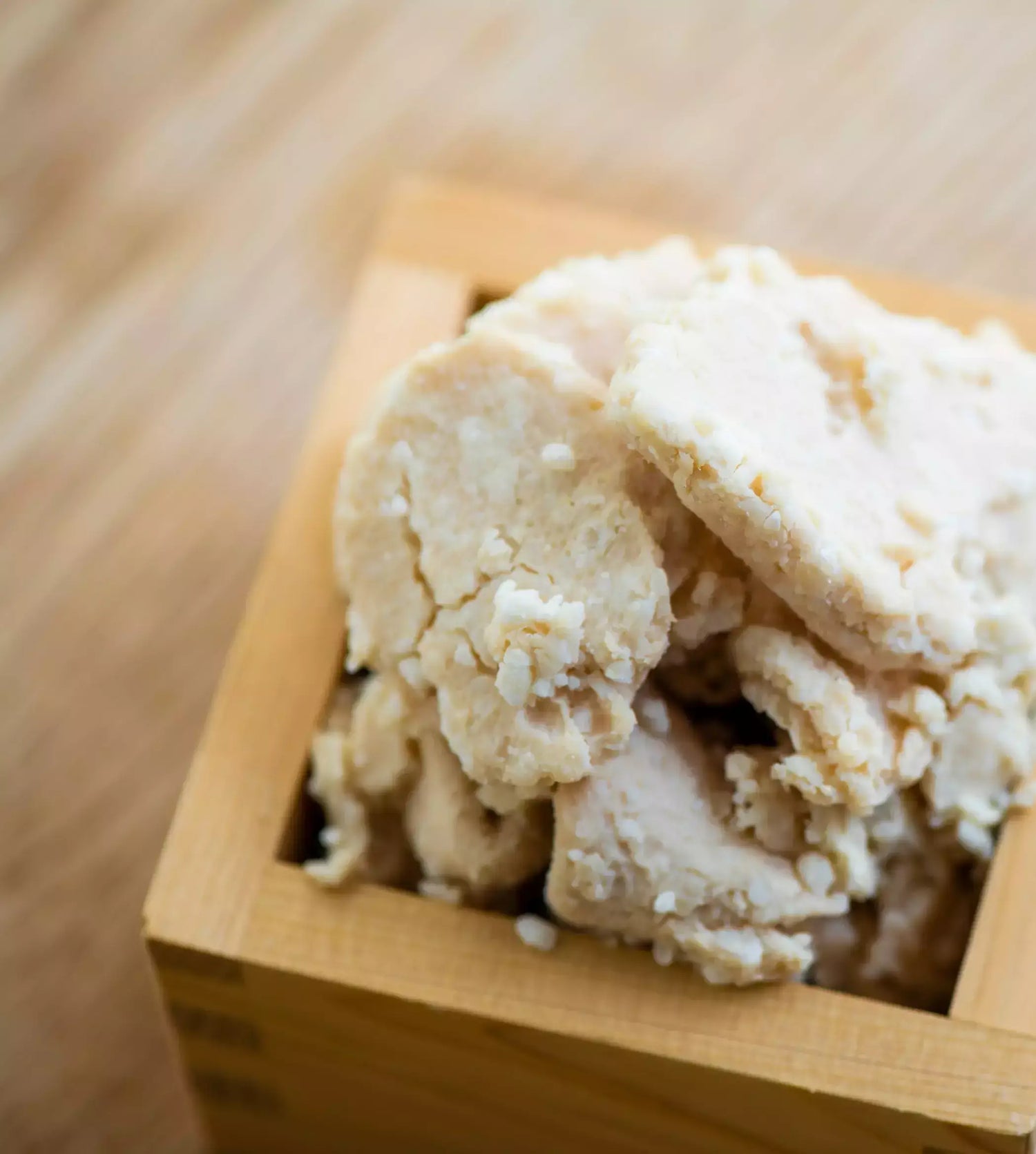 To Skincare Powerhouse
The resulting product is rich in nutrients and compounds that impart a much fuller range of benefits such as:
boosting collagen
increasing elasticity
repairing skin barrier function
lightening hyperpigmentation
reducing inflammation
Phytonutrients in Sake Kasu
Kojic Acid

More potent and stable than Vitamin C. Blocks tyrosinase from overproducing hyperpigmentation-causing melanin.

Proline

An amino acid that's an essential building block for collagen. Important for maintaining youthful skin and repairing damage.

α-EG

ethyl alpha-D-glucoside increases fibroblast and collagen production. Also reduces skin roughness from UV damage and TEWL.

a-GG

alpha-D-Glucosylglycerol increases the production of dermal growth factors and collagen and boosts skin elasticity.

Ferulic Acid

A strong antioxidant that fights free radicals, prevents cell damage, slows down visible aging process, protects against UV damage.

Glutamic Acid

An amino acid and antioxidant that keeps the skin hydrated and supple and aids in the production of collagen. Improves skin texture.

Lactobacilli

A probiotic that improves skin's microbiome and boost barrier function. Reduces inflammation and soothes dry, irritated skin.

Protease

An enzyme that exfoliates and removes dead skin cells, eliminating dull skin for smoother, brighter complexion.

Succinic Acid

Synergistic with Hyaluronic acid (skin healing) and Salicylic acid (kill bacteria, reduce inflammation). Stimulates fibroblasts.

Saccharomyces

Enhances the skin's natural defenses against environmental stressors and promotes a more balanced and hydrated complexion.

Galactomyces

Improves skin texture and hydration, reduces appearance of wrinkles, and boosts collagen. Regulates sebum and reduces pore visibility.

Pantothenic Acid

(Vitamin B5) Repairs skin's barrier function and speeds up wound-healing. Enhances skin's moisture retention and supports cell production.

Niacin

(Vitamin B3) Protects and strengthens the skin's barrier. Improves skin texture and tone. Reduces inflammation and increases collagen.

Thiamin

(Vitamin B1) An antioxidant that is essential for healthy hair, skin, nails. Helps with collagen production and boosts skin elasticity.

GlcCer

Glucosylceramide speeds up recovery of damaged skin barrier by increasing ceramides. Reduces skin sensitivity, dryness, and dullness.

Malic Acid

An AHA that exfoliates dead cells and promotes cell renewal. Smooths and brightens skin, and improves absorption of other ingredients.

Inositol

An anti-inflammatory that reduces dryness, improves skin elasticity, and balances sebum levels. Also great for hair and scalp health.

Biotin

(Vitamin B7) Improves skin hydration and smoothness. Helps in the production of keratin which is essential for skin, hair, and nail health.

Oligosaccharide

A prebiotic that supports the skin's microbiome, prevents moisture loss, promotes soft and supple skin, and reduces acne and rosacea.

p-Coumaric Acid

A phenolic acid that's proven to be incredibly effective at lightening hyperpigmentation and protecting against UVB damage.

Lysophosphatidic Acid

Strengthens and repairs skin barrier and hair follicle development. Promotes wound healing.

GABA

An amino acid and antioxidant with Botox-like effects, ie. relaxing tense muscles, reducing fine lines and wrinkles, and boosting elasticity.

LE

Linoleoyl ethanolamide (LE) is proven to be more potent than licorice root at fighting inflammations like contact dermatitis and psoriasis.

β-glucan

A polysaccharide that's often found in moisturizers, serums, and face masks. It's said to be moisturizing and soothing on the skin.

Cysteine

An amino acid that protects the skin from oxidative stress, promotes wound healing, boosts collagen, helps eliminate irritants.
Want to learn more? Check out our in-depth research on all the benefits of Sake Kasu.
To complement Sake Kasu's benefits, the Skin Nutrient Bar is made with clean naturally-derived ingredients with proven skin benefits.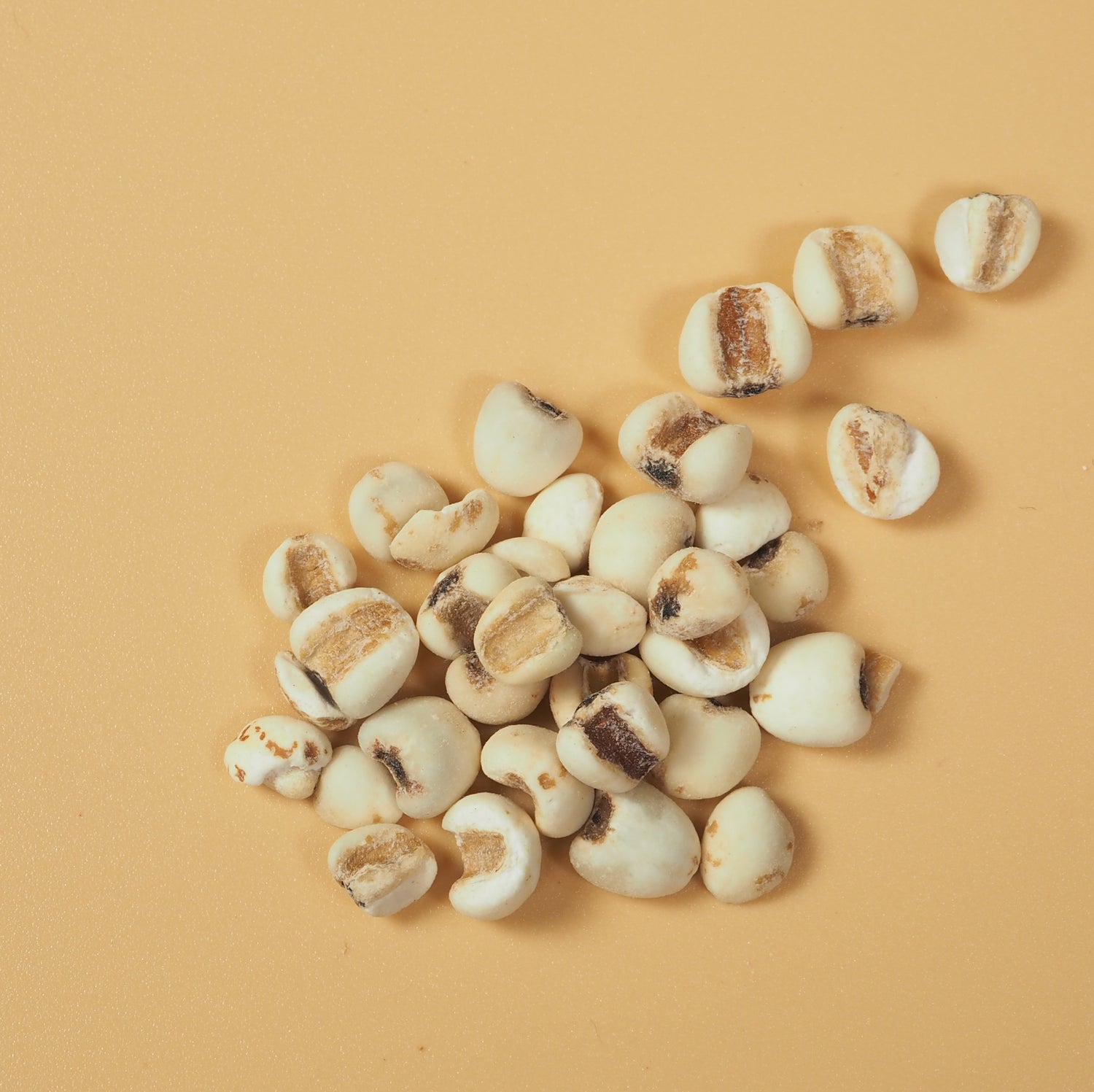 Hatomugi
Hatomugi is another natural ingredient favored by the Japanese for its incredible skin benefits. It is effective against a variety of skin inflammations, including eczema, psoriasis, acne, and even sulfate surfactant-induced dermatitis.
Hatomugi contains a number of compounds that are beneficial to the skin. These include antioxidants and omega-3 fatty acids that help to reduce inflammation and protect from free radicals that can cause damage to cells and lead to aging. Omega-3 fatty acids are also important for healthy skin because they help keep the skin moist and supple and help reduce redness.
Phytonutrients in Hatomugi
Vitamin E

An oxidant that improves skin barrier and protects cells against damage.

Phytosterols

Soothes and moisturizes skin and restores aging skin.

Squalene

A natural moisturizer made by your cells but depletes with age.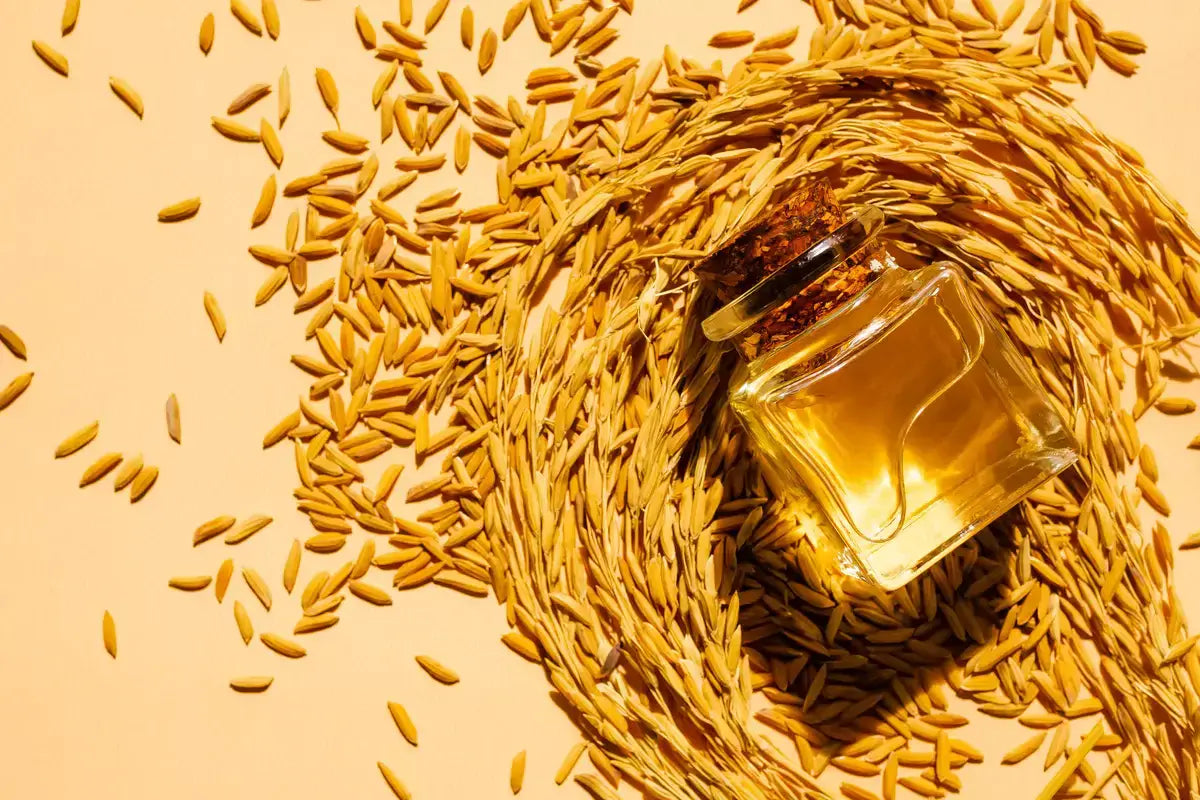 Rice Bran Oil
Another Japanese skincare secret, Rice bran oil is a natural anti-aging ingredient that can help the skin retain moisture without clogging pores, promote cell turnover, and strengthen skin barrier function. It contains squalane, Vitamin E, and ceramides which are all essential for healthy skin, protecting it from free radicals and UV rays, reduce redness and irritation on the skin, maintaining the barrier function of the skin, preventing water loss and protecting against environmental damage.
Phytonutrients in Rice Bran Oil
Squalane

Strengthens skin barrier. Reduces appearance of wrinkles and dark spots.

Rice Ceramides

Strengthens skin barrier. Reduces skin sensitivity, dryness, and dullness.

Inositol

Reduces dryness. Improves elasticity and balances sebum levels.

γ-oryzanol

Powerful antioxidant and anti-inflammatory that fights free radicals.

Phytosterols

Counters the decline of collagen while helping to boost its production.

Tocotrienols

A potent form of Vitamin E that fights free radical damage. Soothes skin.

Tocopherol

Another active form of Vitamin E that reverses signs of aging.

Lecithin

An emollient that locks in moisture and smooths and softens skin. Protects against atopic dermatitis.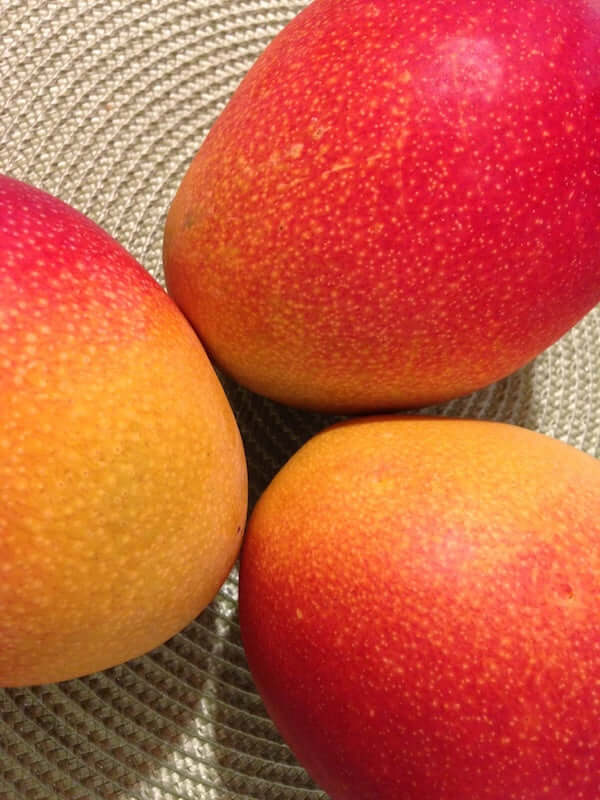 Mango Butter
Extracted from the kernels of the mango fruit, this luxurious butter is not only rich in essential fatty acids, vitamins, and antioxidants but also deeply nourishes and moisturizes the skin, leaving it soft and supple. It's a natural emollient that's great for soothing dry, rough, irritated, or sun-damaged skin without clogging pores. It's also lightweight and non-greasy, making it perfect for all skin types.
Phytonutrients in Mango Butter
Vitamin A

Promotes cell regeneration and more youthful appearance.

Vitamin E

A powerful antioxidant that aids in healing and boosts hydration.

Oleic Acid

Moisturizes, repairs damaged skin, and maintains skin elasticity.

Stearic Acid

Repairs skin's barrier function. Makes skin feel smoother and more supple.
Try The Skin Nutrient Bar Today
Harness the power of Sake Kasu for glowing, supple skin. INE's Skin Nutrient Bar is made with 100% organic Sake Kasu obtained through centuries of Japanese rice fermentation expertise and technology, and handcrafted with a specially adapted soapmaking method to retain its full benefits.
Regular price

$0.00 USD

Sale price

$19.00 USD

Unit price

per

Regular price

$0.00 USD

Sale price

$29.00 USD

Unit price

per